Social media is abuzz with a certain recent movie. So much so, I have seriously considered closing up my social interfacing until the storm passes.
But in the meantime, I thought I would share my top 10 most watchable romantic movies of all time. According to me.
The following list of movies are in no particular order. Many are simply great entertainment, and maybe some laughs (I love comedies). But mostly, for me, they pass the real romance test:
A) Characters worth caring about.
B) Male romantic leads that aren't irredeemably psychotic.
Let me start with the most obvious title of all time. We'll just get this out of the way first, for those few of you that haven't heard of it, or maybe haven't seen it in a while.
1) The Princess Bride, 1987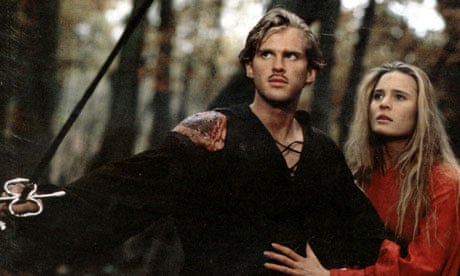 This is the story of Buttercup and her farmboy, as their relationship grows into something more. It's adventure and fantasy, adapted from William Goldberg's novel (have you read it?)
2) Ever After: A Cinderella Story, 1998
Drew Barrymore and Dougray Scott star as Danielle and The Prince. It's a refreshingly charming take on the old fairytale, with the character, Danielle, as a rough-and-tumble tomboy who unwittingly sheds new light on the prince's tired old world.
3) Love Actually, 2003
I'm not just recommending this film because it has just about EVERY SINGLE ONE of my favorite British actors in it. Although, that's partly why. I'm including it as a totally watchable love story because of the so very many expressions of love displayed in a jumble of overlapping relationships. It's funny, and touching, and heartbreaking, but utterly real.
4) Big Business, 1988
Okay, this is more a comedy than a rom-com, but it has Lily Tomlin and Bette Midler, and Lily Tomlin, and Bette Midler! Find me a combo better than that! The comedy duo plays two sets of twins, switched at birth. In each duo, a sister finds herself lost in a world she doesn't belong in, and entangled in a romantic relationship that just doesn't feel right. But the men that love them discover the woman of their dreams is just a twin away. Seriously, see this movie. I mean it.
5) A Walk in the Clouds, 1995
Yes, that is Keanu Reeves. Please don't go screaming into the night. Give him a chance. I believe this is one of the best films he ever made, and he's surrounded by the amazing talents of Aitana Sanchez-Gijon, Anthony Quinn, Giancarlo Giannini. He learns from them, he really does. Also, the movie is about a soldier, Paul, returning from war to find his wife a total stranger (she never even read his letters!). He happens into a woman, Victoria, who is pregnant, and about to go home to her family's vineyard in shame. They work out a plan, and he throws his whole heart into it. Really. What I like most is that this beautiful film has you fall in love with Victoria and her family, right along with Paul. Gorgeous photography, amazing story.
So there you have it! My top five most watchable romantic movies of all time. Take the time this weekend to admire what love could/should really be.