As an author, screenwriter, and filmmaker, I am often so busy creating stories that I seldom have time for my first, real love: reading. I miss it, the way one misses the scent of a favorite stuffed toy, or the comfortable feel of beloved slippers.
I'm making it a priority again this year.
This reading challenge, posted by PopSugar, and brought to my attention by my friend, Robin, makes the task seem fun, rather than guilt-laden for my lack of literary exposure. I'm excited to be excited to read again!
Join in on the fun!
From Tara Block at PopSugar:
"Book-lovers, start your reading engines. If one of your New Year's resolutions is to read more books in 2015, get started now with our ultimate reading challenge. From a book your mom loves to a book with a love triangle, we're giving you a wide range of reads, spanning eras and genres, instead of specific books."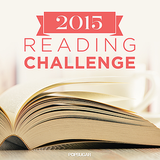 My first book from the challenge is a non-fiction book, chosen from the stack I got for Christmas.
I've read other work from the writing duo, and enjoy their voice. They're able to communicate the fascinating parts, as well as the grim realities, without inflating or making it seem tabloid or gratuitously cheap entertainment.
While I'm on the subject, here's another book I got for Christmas:
I blasted through this amazing book, and will be reading it again. It's a true-to-life (because it IS true) foray into a career that could seem macabre, except, it isn't.
I can't count it on my challenge for 2015, though, because I read it last week! But maybe next time...